LELLE IHR WEIN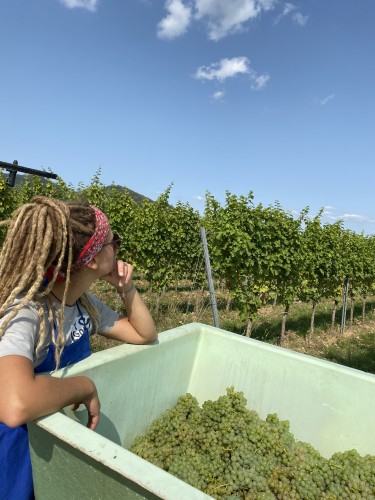 Lena Maria Julier, or just Lelle, have always been close to winemaking, as she more or less grew up in the family-owned Weingut Schmitzer-Julier. Her parents winery produces organic but rather classical wines. The classical part is something Lelle want to change with her own wines, that obviously are more vibrant, alive and expressive.
We are in Pfalz in the Village of Eschbach. A one and half hour drive vest of Stuttgart. Eschbach is a quiet and small village with less than thousand people living there. Lelle produces her wines from familiar vineyards that are owned by her parents. The green mindset and sustainable approach are something she learned from them, who have been organic certified for decades.  
Great quality of grapes, completely natural approach in the cellar and patience is the keywords for her fantastic wines. Compared to the more classical wines from the area, Lelles wines appears funkier and more natural, but without losing the Pfalz terroir feeling.
At the moment the production is focused on two wines with a total production around 2000 bottles. A sparkling, light, fresh and elegant fizzy Riesling and a Riesling made with maceration on the skins. Both untypical for the area, but just after our taste and what we love!
When Lelle doesn't look after her own vineyards she works as a traveling master vine pruner for the company Simonit&Sirch. Simonit&Sirch was founded more than thirty years ago and they help and train some of the best and most renowned producers around the world. When Lelle doesn't work in her vineyards or away from home, she is the wife of one of our other great producers, Nikolas Juretic. Imagine a collab from those two!?